UNIQUE ART GLASS & METAL Co.
UQ-C1
Standard 4" Cap
4" OD, fits 3 5/8" aperture
Spun brass with solid brass knob
This cap is the one found on the great majority of Unique's lamps. A small lip on the bottom fits into the shade aperture, which should measure 3 5/8" across. There are 6 small vent holes on the bottom.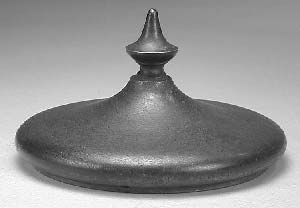 UQ-W1
Standard 4" Wheel
3 7/8" OD
Cast and machined brass