A Very Special Lamp
In February 2016, Paul Crist Studios was commissioned to reproduce a Tiffany Studios 22" Dragonfly lamp originally made for Andrew Carnegie in 1905. Carnegie and wife Louise were personal friends of Louis Tiffany, as well as frequent and loyal customers of the Studios. They respected and admired his work immensely and owned several Studios lamps which graced their home in New York City (now the Cooper-Hewitt Museum). The 22" Dragonfly that they had commissioned was their most prized lamp and it occupied a place of honor in the Gallery where their favorite art was displayed. It remained in this room throughout Andrew's life (he died in 1919) and throughout Louise Carnegie's life until her death in 1946. At that point it passed to one of the Carnegie's grandchildren and eventually to a member of the next generation. During its 110 years in the Carnegie family the lamp was well cared for and treasured, not only for its extraordinary beauty and intricacy, but because it had shed its intriguing light on so many generations of family members and their guests.
A View of the Carnegie Gallery, ca. 1925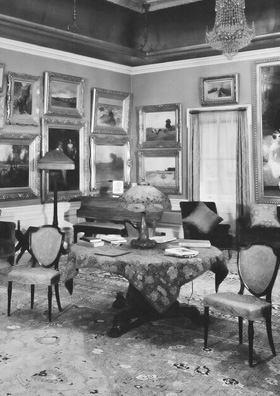 Recently though, the great granddaughter and owner reluctantly decided to part with her lamp because, getting up in years, she had to consider her children's future and the legacy of their beloved family farm, which was carrying a significant debt load. The time had come to pay down the mortgage on her property and parting with a beloved family treasure seemed like a sensible way to accomplish that objective.
Sotheby's in New York was more than eager to be given the opportunity to sell the lamp for this distinguished client; they recognized from the moment they first saw it that it was a stunning example with great provenance. They gave her an estimate of $250,000.00 to 350,000.00 and the consignment was agreed upon. When the lamp went on the block in December 2015, the bidding was very competitive and it finally hammered for an astounding $2.1 million (with buyer's premium)! Not only was the mortgage paid down, it was paid off and there was money left over. She then decided to use a bit of her windfall to have a reproduction of her beloved lamp made to remember it by. Inquiries were made and Paul Crist Studios was recommended for the project.
For us, the metalwork and shade construction were not a problem; these are skills we had mastered long ago and use all of the time. Most of the glass was also not an issue, because we maintain a huge inventory of restoration glass, some of it dating back to the early 1980s. The background glass was a different matter; it was a very specific color combination and we needed a lot of it. It would have to be custom-made. Fortunately, Uroboros in Portland, Oregon is known for making just the right style of translucent ripple glass and they were willing to do a special run for us. Paul Crist flew up to Portland in April 2016 to personally oversee the production of the glass. The run required a lot of color tweaking, density adjustments and mixing tests (that's normal), but in the end we got exactly what we wanted.
Making the Glass at Uroboros - April 2016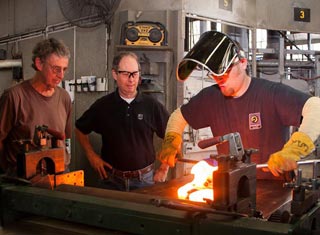 Once the glass arrived back at the Studio, work on the shade began immediately. The only issue that arose had to do with the jewels. In the original shade, many of the jewels were double layered and over the years opaque dirt had accumulated between the layers on some of the jewels that happened to be incompletely sealed. The owner had grown up with these 'dirty jewels' and we wondered whether she wanted us to make the shade as she remembered it or the way that Tiffany's artisan had intended it to look! A compromise was agreed upon and we opted to make those jewels a bit murkier by layering them with appropriate glass. Both base and shade were finished in mid-July and the completed lamp shipped off to its anxious new owner.
One Half of the Shade laid out on a Llight Table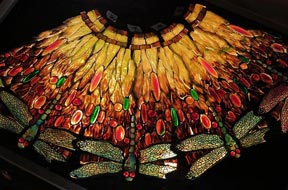 Upon receipt, the lamp was immediately set up in the "Carnegie Room" of her home in the same place that the original had sat. She was thrilled with the results and, when she showed it off to her family, some of them even thought that it was more beautiful than the original. For an artisan, it doesn't get any better than that.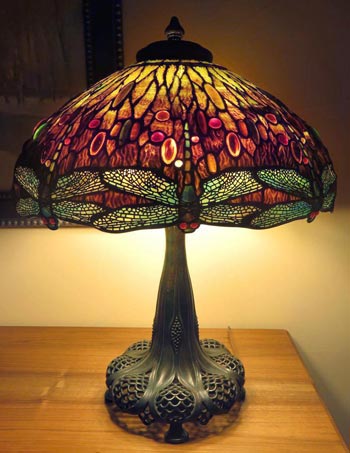 Carnegie Dragonfly
as displayed in the owner's home in 1995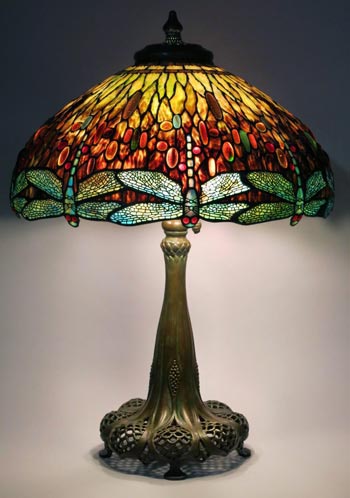 The Completed Paul Crist Studios Reproduction
For Paul Crist Studios this commission represents something special, because we see it as a sort of capstone to a 40 year career, over which we have made almost 1000 high quality reproductions of Tiffany's lamp shade designs. It also gave Paul Crist and Eric Lovell an opportunity to work together again as they had done so many times in the late 1970s and 1980s. At that time, Eric was developing his new line of opalescent glass and Paul was running a crew of more than 40 artisans that needed a lot of glass to make high quality leaded shades. It was a very fruitful collaboration for both parties and this "re-enactment" gave them the chance to do what they still love doing, while reminiscing about the good old days. Soon after this run was made Uroboros had to finally close the doors to their factory in Portland, due to urban encroachment and tightening pollution regulations, so this was an opportunity that will not come again.