We are offering the last of our lamp base inventory at heavily discounted prices.These are all first quality new bases in brass, zinc or oak as noted in our catalog. All bases come wired and boxed, ready to ship. Shipping charges will be added to the listed price. If you want one of these bases, this is your last chance to buy it from us- and at a greatly reduced price!
A red "X" over the image means that the item has sold out.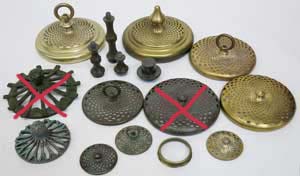 C6TDH [1 left] $108.00
C5BP [sold] $138.00
RS3 [13 left] $28.50
RS4 [15 left] $33.00
C4HP [3 left] $44.50
C3BP [3 left] $93.00
C2HP [20 left] $25.00
C2P [2 left] $25.00
C6TD [1 left] $108.00
C5H [4 left] $46.50
RS1 [4 left] $25.50
BA01 [4 left] $48.00
C5P [sold] $49.00
C5 [8 left] $39.50
C2 [20 left] $19.00
R2T [20 left] $6.50
Not shown: C5HP [6 left.] $56.00
For more information on the hardware, please refer to our Odyssey catalog.